Not all Smart Homes are beautiful, and that's OK!
I installed my first Z-Wave in-wall on/off micro relay module (Monoprice version) today in a simple old dusty circuit that is a perfect use case for this type of module.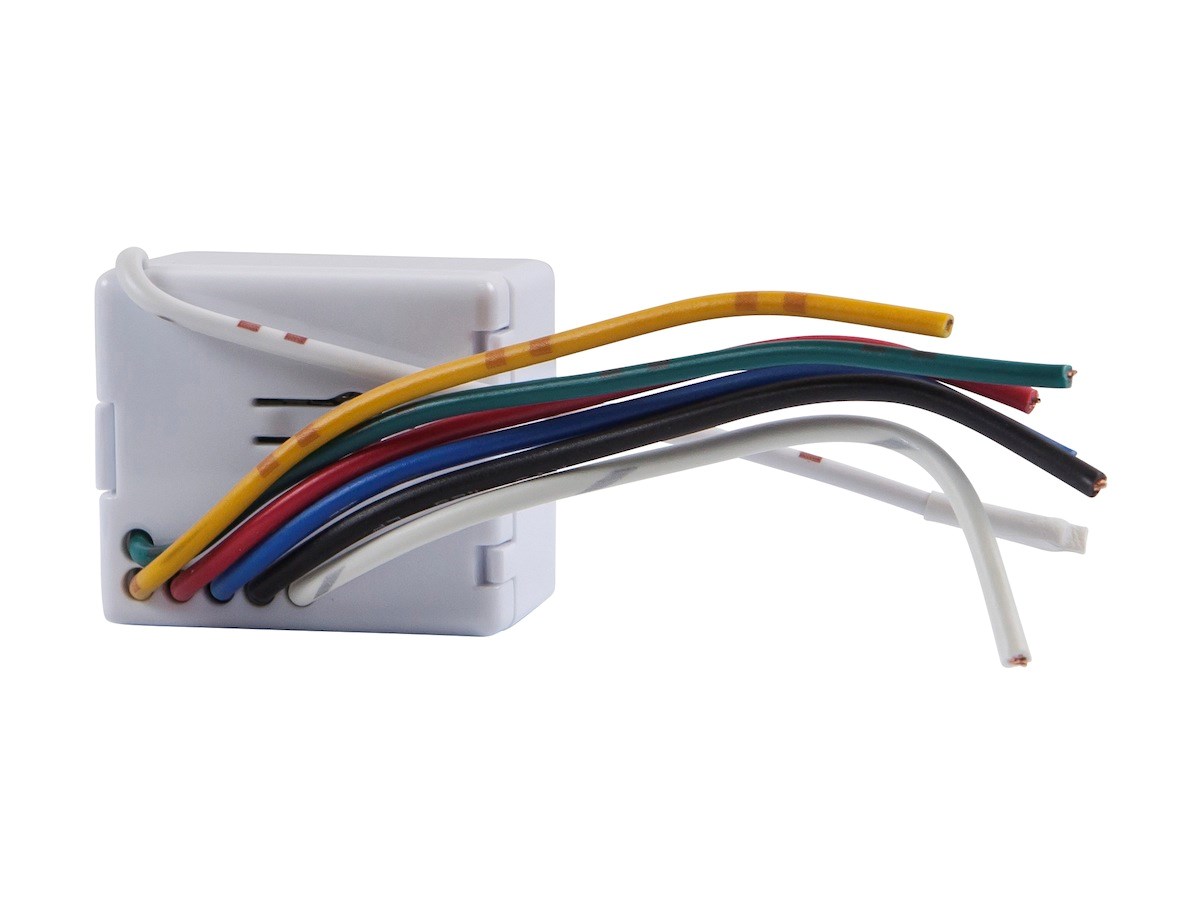 My garage laundry area had a single bare incandescent bulb
wired to an ugly clunky ancient flip switch. A while back I replaced the bulb with a LED based 40 Watt light bar (looks like a long fluorescent fixture, but streamlined and has no ballast buzzing).
But my garage is dark and it's my path to the backyard, so I've been flipping that awful clunky switch on and off quite a lot. The switch does not have a Neutral wire and with insufficient passive load from the LED light (common problem), a Z-Wave wall switch was not an option.
The junction box for the old single bare bulb, however, has all the wiring necessary, of course, Eureka…!:
Hot input, loop off to the switch, through the LED fixture, and back to Neutral.
Installed the relay in about 30 minutes by pulling off 2 wire nuts, studying the diagram for the module (that took most of the time, frankly), and then inserting it into the circuit of the module with just 2 more wire nuts. Oh…
I shut off the circuit breaker first,
… And put on safety glasses
. And checked my life and home insurance policies
The junction box is metal, but wasn't covered anyway. The module has a little white antenna wire, so it should be easy to have that stick out of the covered box whenever I decide to close it up. There are no exposed wires… Everything tightly nutted up to insulation.
Finally turned the breaker back on and joined the module to SmartThings (appears as a Z-Wave Switch). Didn't quite work though… Dunno, maybe I was impatient. The on/off tile controlled the light, and the light switch immediately updated the tile status, but not both in sync (i.e., the light switch wasn't turning on the light
. Well – I used my GE Secondary Remote controller to add the module and now it fully works. Light is controllable from ST, as well as via the light switch. (I don't know if this particular relay has a "automatic bypass mode" – it may not work if the Z-Wave network can't be reached. I think the Aeon version has this mode).
But I left the ugly old flip switch in place for now… Why? Because I doubt I'll need to use it ever again since I installed a ZigBee motion sensor on the ceiling joist next to the light and installed Dashboard Shortcut SmartApp to "Turn On When Motion and Off after 2 minutes".
Voila… no more dark and scary garage! But still ugly down there… The
rats like it that way!
---
AND… Bonus!: The garage is a pathway for my beloved Buddy & Deuce Beagles (the Cosmic Pups)
to get to their doggy door, the motion sensor will detect them and light the way, and alert me of their doody duty if I so desire. Buddy is 17 years old, a little rickety and a little senile, and sometimes doesn't make it quite all the way outside, and … well: now you see why I need plenty of light on my path through the garage, right?
Just as important, the garage could be a likely entryway for burglars
, so this motion sensor is in an excellent location to detect intruders, scare them with sudden light, and alert out SmartThings push notifications while we are away from home. This is an added security layer to the Tilt Sensor already installed on my garage door.
Sure … my wiring is ugly, and the joists are ugly, but some of the stuff in my garage could be a bit tempting to the bad guys.
The lesson: Sometimes a lone requirement for a little extra convenience, and about $60 ($30 switch module + $30 ZigBee motion sensor), leads to a whole lot of smart-value when added to a SmartThings location.
---
Ugly photos will be attached. Insults and questions welcome!