I'm trying to make ST as reliable as possible as a security system, and that includes getting intrusion, smoke, and leak notifications even when the power is out or internet is down. Most of the security devices are battery powered so they will at least report to ST Hub when there is an issue. Just need to make sure ST can send the notifications to you. For that you need internet and power for those devices 24/7 no matter what.
You'll need 4 things:
UPS Battery backup
Router with 4G Failover capability
4G USB Modem for the 4G Router
Sim card with service for the 4G Modem
1) UPS. I am using a $40 APC battery backup UPS
It's designed for Modems/Routers with low power draw and should last a few hours. My Cable modem, WiFi Router, and ST hub get plugged into this.


2) 4G WiFi Router. The PepWave Surf SOHO ($169) is a 1700AC Gigabit router with 4G and WiFi as WAN Failover capabilities. This will replace my current WiFi router.
It will use your cable modem's internet connection primarily. If cable goes down, it will then use the 4G USB modem. If you have free WiFi near you, you can also setup WiFi as WAN and use that as failover as well.
The failover happens automatically. Your devices stay connected to the router and this router determines which internet connections to use, with no noticeable loss of internet to your devices (internet speed will obviously vary depending on which connection is being used).
This router has 5 gigabit Ethernet ports, 3 external antenna's, 3x3 MIMO, 450Mbps on 2.4Ghz and 1300Mbps on 5Ghz concurrently. Has a range of 300' radius indoors.
There are cheaper options, but these aren't something I'd want to use as my full time router. If you want to keep your existing router, you could use a cheaper one, plug the cable modem into it, then plug your good wifi router into the cheap 4G router. The cheap 4G Router will provide internet to your good WiFi router, automatically failing over to 4G if your cable goes down.


3) USB Modem. You need to get a USB modem that is compatible with the 4G service you get. Your options are CDMA (Verizon, Sprint, US Cellular) and GSM (AT&T and T-Mobile)
I plan on using a GSM carrier so am getting the AT&T 340U Beam 4G USB modem for around $40. Make sure you get one unlocked.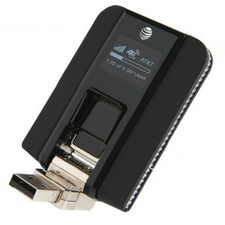 4) 4G Sim Card and service. Who you go with depends on where you are (coverage) and what you need (data allowance). I plan on only using it for ST when cable modem is down which requires very little data, so cheap is a priority. H20Wireless has 4G Pay as you Go plans for only $3/mo ($10 for 90 days). If you renew within the 90 days any unused balanced rolls over. If you let it expire, not only do you lose the unused balance, but eventually the sim card expires too and you need to get another one. This is typical of most plans. You can find cheap/free sim cards on Amazon.